Healing Harmonies was founded in 2011 by Erica Flores, Board-Certified Music Therapist. The creation of Healing Harmonies came from a strong desire to not only provide high-quality music therapy services throughout the area but also to have the ability to educate and advocate about the power of music therapy. Flores operated as a solo-preneuer for 2 years but as time passed and an increased need for services arose, Flores found that her vision could not be accomplished on her own. In 2013 Flores hired her first Board-Certified Music Therapist and from that point forward, as the need for services grew, so did the team. Healing Harmonies currently employs 6 Board-Certified Music Therapists with a need for more!
In 2018, an opportunity arose to expand our services to begin offering Art Therapy as well. With this in mind, Flores decided to take the leap and bring on the first licensed Art Therapist for Healing Harmonies. This proved to be a great leap and has been accepted so well by the community that Healing Harmonies has grown the Art Therapy team to 3 licensed Art Therapists, also with a need for more!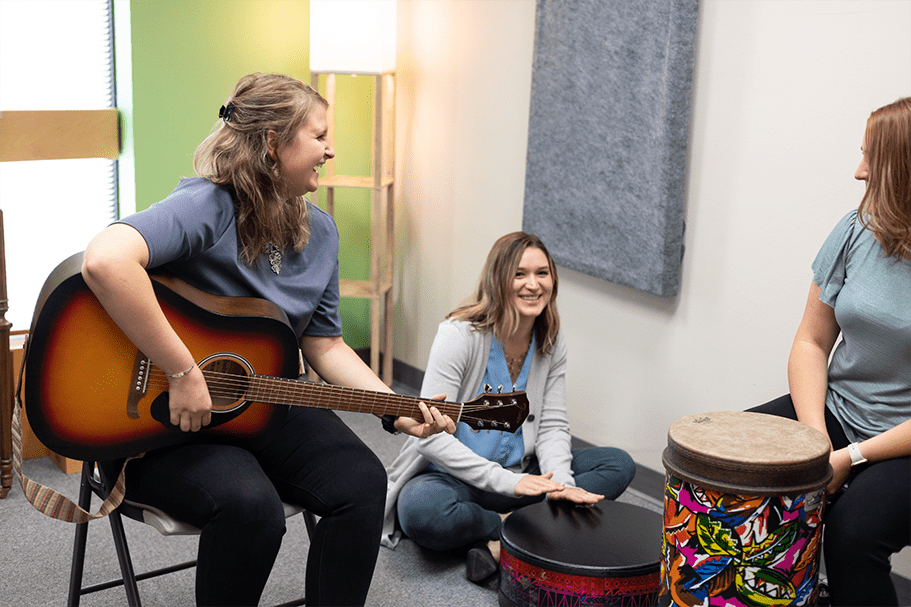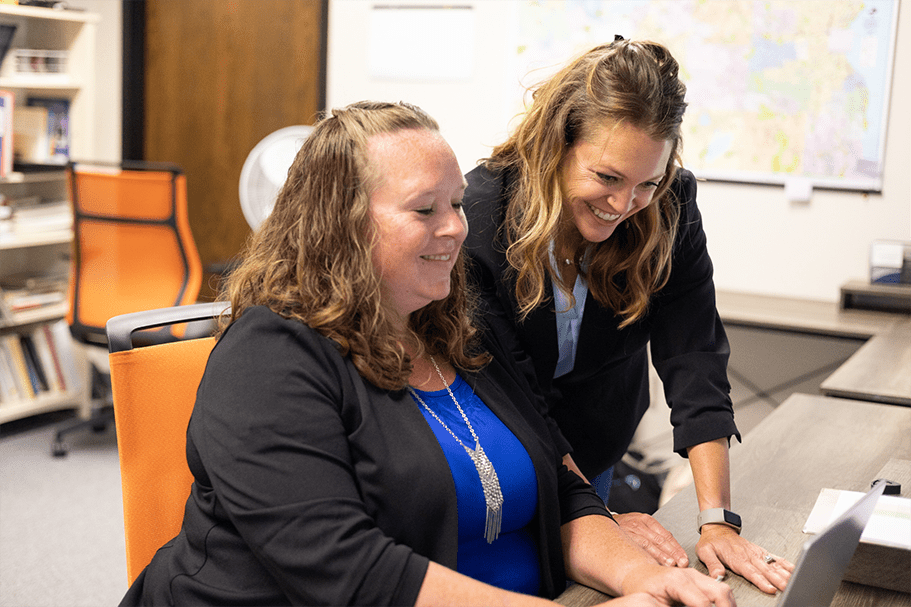 In addition to a team of amazing art and music therapists, Healing Harmonies has a wonderful office coordinator, Tamara Kerls, that keeps us running smoothly. Tamara was brought onto the team in 2016 to provide assistance with miscellaneous office responsibilities such as invoicing, bookkeeping, and additional odds and ends. Throughout the years, Tamara's responsibilities have increased and she has become more-so our intake coordinator and will most likely be the voice that you hear when you first call to inquire about our services!
Values, Mission & Vission
All Healing Harmonies staff operate in accordance with our top values that have been established together as a team. These values ensure that we treat our clients, collaborating disciplines as well as each other with Compassion, Humility, Integrity and in Collaboration. The surrounding values are also ones that we strongly transcribe to but when it came down to the core of who we are, we found that compassion, humility, integrity and collaboration encompass us as a whole.
Our music therapists have the responsibility to abide by the American Music Therapy Association's Code of Ethics while our art therapists also work in accordance with the Ethical Principles for Art Therapists that was established by the American Art Therapy Association.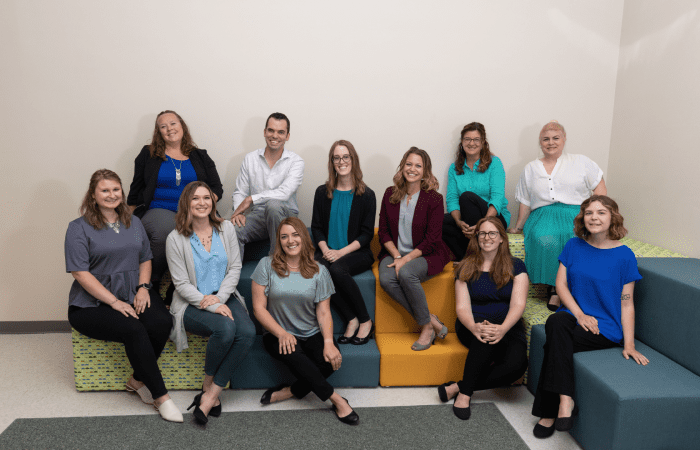 Erica Flores
Founder & CEO
Erica Flores graduated from Alverno College in 2005 with an undergraduate degree in music therapy, shortly thereafter obtaining her national board certification. After being employed by a few other private practices, Erica decided to embark on her own private practice journey and so she founded Healing Harmonies in 2011. Since then, Erica has found her true driving passions to be advocating for the fields of music and art therapy as well as becoming an effective leader to other therapists with the goal of building a team that can touch more individuals throughout the community than Flores could ever reach on her own. Erica currently resides in Oconomowoc, WI with her husband and 12 year old son. In her spare time, Flores enjoys exercising, cooking, spending time with friends and family, and watching football (go Pack!).
Tamara Kerls
Office Coordinator
Tamara Kerls is a graduate of Concordia University with a Masters of Science in Education (K-12 School Counseling). She utilizes natural and learned interpersonal skills in her primary responsibilities of client relations and scheduling. Tamara resides in Ixonia, WI with her husband and 2 young sons.
Chloe Husnick
Music Therapist
Chloe enjoys working with those of all ages and abilities but her passion and heart truly lies with the geriatric and hospice population. Chloe strives to bring comfort through music not only to her clients but to their families as well. She believes in implementing multiple theoretical approaches of Music Therapy to reach each individual client. In her spare time Chloe enjoys visiting her family in the northwoods, hiking, watching live music and exploring Milwaukee.
Faith Lillo
Music Therapist
Faith Lillo graduated from Carroll University with a Bachelors of Science in Music Therapy in 2021. Faith practices from a humanistic approach, bringing compassion, patience, and creativity into every session in order to help clients reach their full potential. Although Faith enjoys working with clients of all ages and abilities, she is especially passionate about working with school-age populations.
Claire Bellman
Music Therapist
Claire Bellman is from the Madison, WI area, and graduated from Maryville University of St. Louis in 2018 with her Bachelors of Science in Music Therapy. She has worked as a Board-Certified Music Therapist since 2019 primarily with children and adults with developmental disabilities and mental health disorders, and expanded her horizons working in hospice at Healing Harmonies. Claire is a trained Neurologic Music Therapist, and utilizes this approach, as well as a variety of other humanistic approaches to best meet the needs of those she is serving.
Josh Robinson
Music Therapist
A board-certified music therapist, Josh Robinson is currently completing his master's thesis in Music Therapy through Augsburg University. Josh enjoys working with a variety of client populations—addiction recovery, adults and children with developmental disabilities, as well as hospice. No matter who he serves, he strives to meet his clients where they are with humanistic and psychodynamic theoretical approaches to help them find healing and well-being through music. Josh is inspired daily by his wife and son, with whom he enjoys hiking, cooking and spending quality time.
Savana Schraeder
Music Therapist
Savana is a board certified music therapist. She received her degree in music therapy from Carroll University where she also minored in psychology. Savana completed her clinical internship at a therapeutic day school, called Giant Steps in Lisle, Illinois. Savana enjoys working with both children and adults with varying needs/diagnoses including developmental disabilities, autism, and other neurodevelopmental disorders, mental health, and hospice care.
Savana approaches her clinical work by ensuring each client's autonomy, communication methods, and needs are supported and celebrated through music.
Emily is an art therapist with a background in hospice and grief counseling. During her four years with Healing Harmonies, she has expanded her horizons and enjoyed working with a wide range of clients in a variety of settings, including adult and adolescent mental health groups groups and children with developmental disabilities.
Emily is looking forward to providing exceptional therapeutic services to you, your loved one, or client!
Alisha Cate
Music Therapist
Alisha Cate has been a music therapist at Healing Harmonies since April 2017. She graduated from Northern State University with a major in music education and a minor in business, after which she continued on to get her master's in music therapy at the University of Iowa. She enjoys working with those of all ages and abilities and believes in utilizing a person-centered approach, including meeting individuals where they are at and capitalizing on their strengths.
Alisha loves a variety of creative outlets and spending time with family and friends.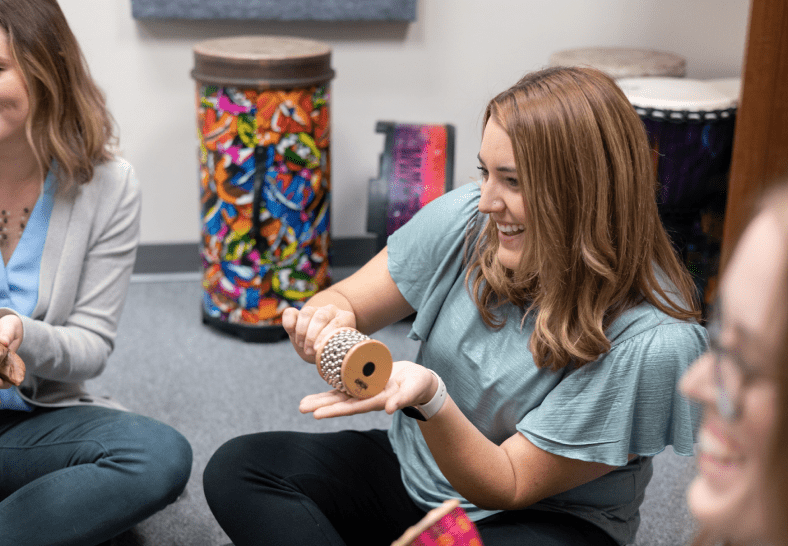 Come join our growing team of dynamic music and art therapists! We are seeking well-rounded music and art therapists who thrive on a variety of clientele and are looking to stretch their professional muscle! Offering a highly supportive environment, we hold strong to our top values of operating with compassion, humility, integrity and respect. We encourage lifting each other up and team-work, all resulting in high quality services for our clients. Apply today to invest in your future!
Interested In Working with us? Don't Wait, Apply Now!