More creation can mean less medication.
Music and Arts Prescription
We could share with you all of the scientific, evidence-based research, with endless data and clinical terminology—but we won't. We know that what you really care about is exactly how these prescription-based treatments can benefit you and your loved ones.
So, we're sharing that.
First... Who can we help with music and art therapy?
Examples of our clientele include but are not limited to:
Children and adults with intellectual and developmental disabilities
Children experiencing behavioral or social challenges at school or home
Children and adults with advanced medical needs
Traumatic Brain Injury
The aging elderly with neurodegenerative diseases such as Alzheimer's or Parkinson's Disease
Those struggling with symptoms related to a mental health diagnosis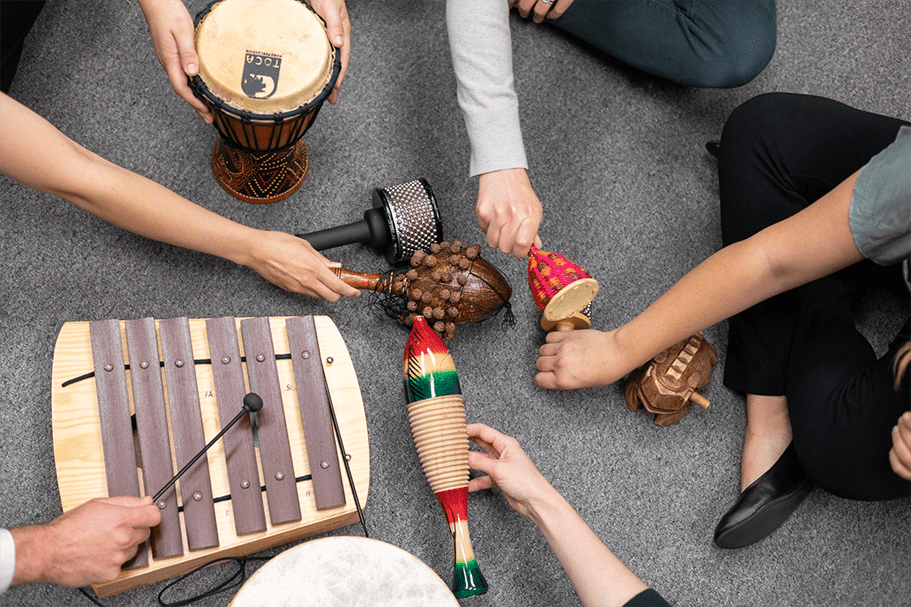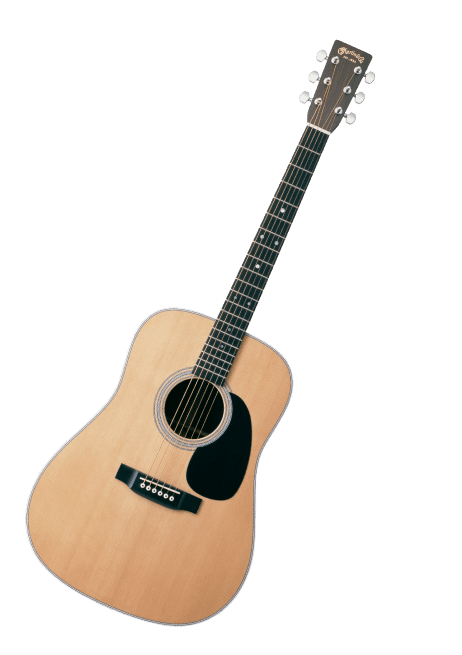 Music Therapy
Music therapy can hit the perfect notes to help someone psychologically, emotionally, physically, spiritually, cognitively, and socially.
How is this accomplished?
Intentional listening and reflection of music
Singing
Playing instruments
Music creation
It's a simple concept, done in such a way that provides life-changing results. Don't worry—musical talent or perfect pitch is not required. The only pre-requisite is the desire to have a full and happy life.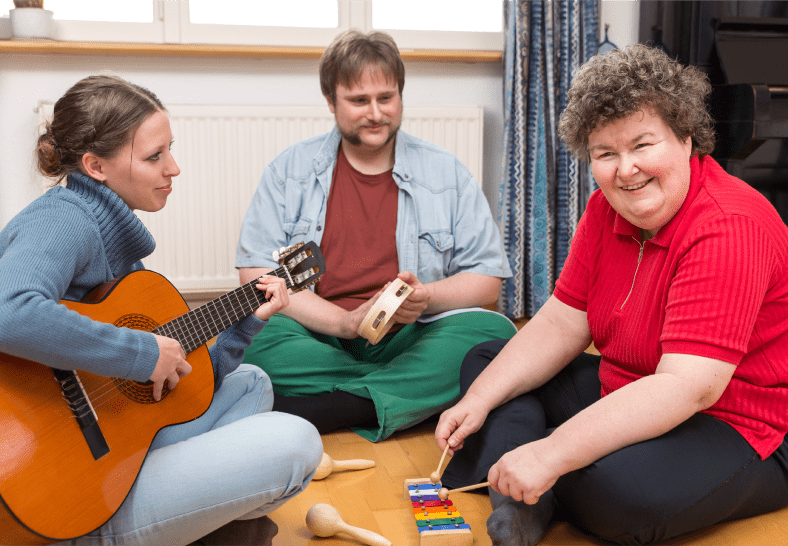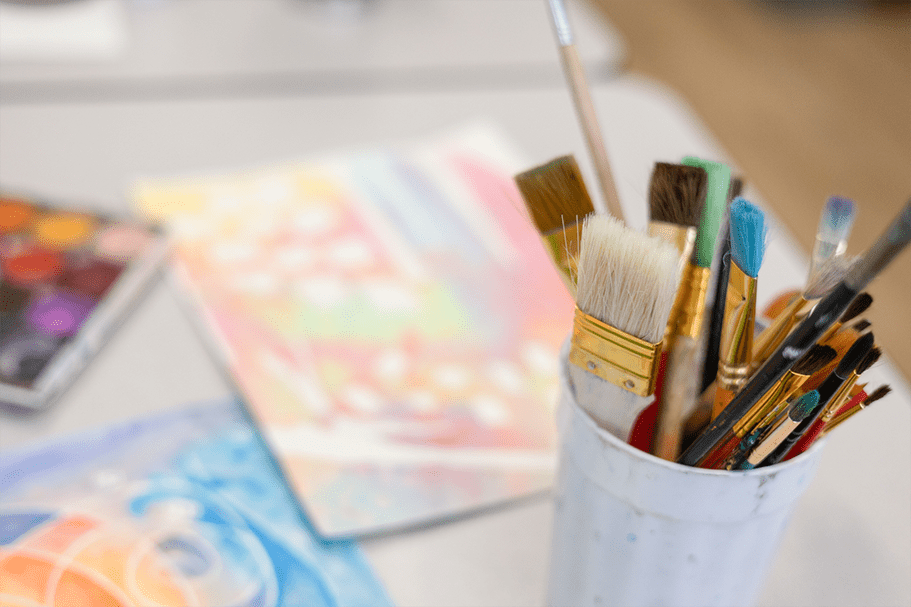 Art Therapy
To put it simply, art therapy can be the brush needed to help paint the picture of a better life. It's not about the product, it's about the process.
We do this by:
Guided creation of artwork
Encouraging self-expression
Interpreting and exploring emotions through artmaking
It's more than just color-by-number. Creating works of art generates an amazing rainbow of emotions through which therapeutic healing can be done. Creativity can open the doors to dark and empty spaces and let in the sunshine. Sunshine needed to live a healthier and happier life.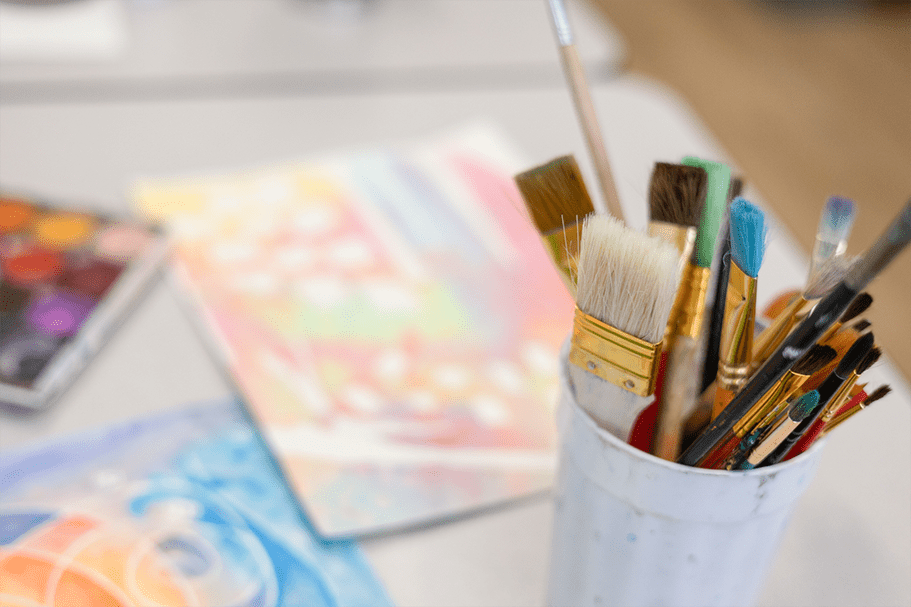 Art therapy is a part of the burgeoning field of expressive art therapies, a family which also includes music, dance/movement, and drama therapy. Like these others, art therapy offers a fresh look at mental health and wellness. It's professionals use the art-making process to build, strengthen, resolve, and heal. Art therapy often operates within the larger wellness community; many art therapists practice within schools, hospitals, and clinics, working with teachers, doctors, and other counselors to achieve and individual's wellness goals.
Here's what people are saying about us...
Erica and her staff at Healing Harmonies have provided some incredible music therapy with a certain individual for whom I serve as guardian. His cognitive illness severely affects his speech but when he sings with Healing Harmonies he is lucid and understandable, not to mention very talented. In my collaboration with Erica Flores and her agency, I've come to learn a great deal about the healing power of music.
Kevin D, Corporate Guardian
Interested In Music Therapy Services? Don't Wait, Contact Us Today!